NOTICE: Activation key must be used on a valid Epic Games account. Requires an internet connection.
Pre-order offer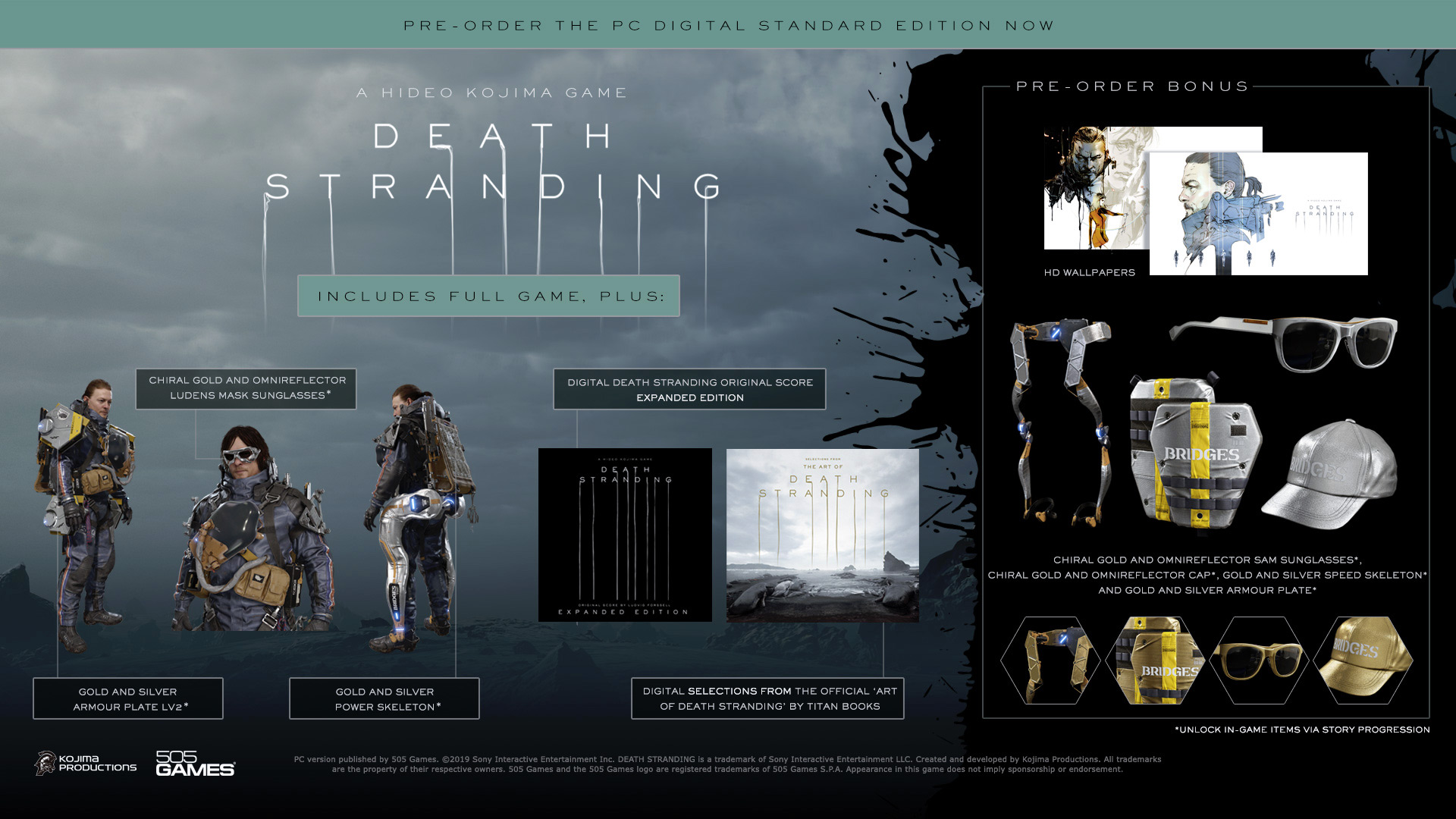 Pre-Purchase Now to receive:
HD Wallpapers
CHIRAL GOLD/ OMNIREFLECTOR "SAM" SUNGLASSES (COLOR VARIANT)*
CHIRAL GOLD/ OMNIREFLECTOR CAP (COLOR VARIANT)*
GOLD and SILVER SPEED SKELETON*
GOLD and SILVER ARMOUR PLATE LV2 AND ABOVE*
All copies of the game will also additionally include:
DEATH STRANDING Official Score Expanded Edition digital soundtrack by Ludvig Forssell, including 10 unreleased bonus tracks.
"Selections From 'The Art of Death Stranding'" Digital Book (by Titan Books)
CHIRAL GOLD/ OMNIREFLECTOR "LUDENS MASK" SUNGLASSES (COLOR VARIANT)*
GOLD and SILVER POWER SKELETON*
GOLD and SILVER ALL-TERRAIN SKELETON*
GOLD and SILVER ARMOUR PLATE*
*UNLOCK IN-GAME ITEMS VIA STORY PROGRESSION
Incorporates 3rd-party DRM: Denuvo Anti-Tamper
About the game
From legendary game creator Hideo Kojima comes an all-new, genre-defying experience.
Sam Bridges must brave a world utterly transformed by the Death Stranding. Carrying the disconnected remnants of our future in his hands, he embarks on a journey to reconnect the shattered world one step at a time.
Starring Norman Reedus, Mads Mikkelsen, Léa Seydoux and Lindsay Wagner.
Features
Additional PC features include HIGH FRAME RATE, PHOTO MODE and ULTRA-WIDE MONITOR SUPPORT. Also includes cross-over content from Valve Corporation's HALF-LIFE series.
PC version published by 505 Games. ©2019 Sony Interactive Entertainment Inc. DEATH STRANDING is a trademark of Sony Interactive Entertainment LLC. Created and developed by Kojima Productions. All trademarks are the property of their respective owners. 505 Games and the 505 Games logo are registered trademarks of 505 Games S.P.A. Appearance in this game does not imply sponsorship or endorsement. © 2020 Valve Corporation. All rights reserved. Valve, the Valve logo, Half-Life, the Half-Life logo, Steam, the Steam logo, and the Lambda logo are trademarks and/or registered trademarks of Valve Corporation in the U.S. and/or other countries.