SPECIAL OFFER
---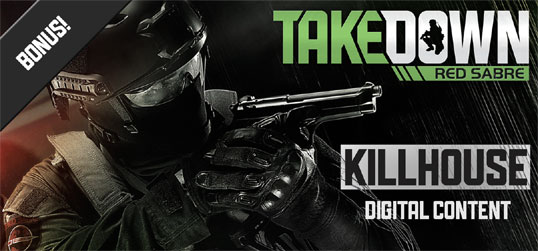 Order now to get day one access to the Red Sabre Deadly Killhouse DLC. This content adds a special, highly challenging single player Tango Hunt map to hone your skills and get ready for the challenging multiplayer modes. Test and refine your load out combinations while perfecting your lethal search and destroy skills in a map designed personally by the FPS veteran designer behind the game, Christian Allen.
NOTICE: Activation key must be used on a valid Steam account. Requires internet connection.
ABOUT THE GAME
---
TAKEDOWN: Red Sabre
is a tactical shooter that is perfect for the player who chooses to engage in deliberate and methodical gameplay as opposed to gamers who want to run in with guns blazing.
In
TAKEDOWN: Red Sabre
gamers experience close-quarters battles as a member of the elite Red Sabre team. Each scenario is designed to emulate the tactics employed by SWAT teams and SOF units in taking down small numbers of dangerous adversaries. Non-linear environments allow for multiple routes, tactics and added replayability.
The game is in development by Serellan, a team of veteran developers who have worked on titles in the Ghost Recon, Halo, SOCOM, SWAT and F.E.A.R. franchises. The team is led by Christian Allen, the former creative director of the Tom Clancy's Ghost Recon franchise.
KEY FEATURES
---
Fight Smart in Deadly, Close Quarters Combat – Players must think and move tactically, stay alert, watch, listen and choose wisely while setting up their squad for the perfect shot.
Tackle Engagements That Are Different Every Time – Nonlinear maps allow for multiple tactics and approaches to both attack and defense. Gamers must choose their gear to best execute strategy.
Out Think The Enemy – Gamers need to work closely and communicate well with their team to not only attack the enemy but to coordinate to secure multiple objectives.
SYSTEM REQUIREMENTS
---
Minimum:
OS: Windows XP SP3 (32-bit only)
Processor: 2GHz or better CPU
Memory: 2 GB RAM
Hard Drive: 3 GB
Graphics: A graphics card with Shader Model 3.0 support
DirectX: Version 9.0
Network: Broadband Internet connection
Recommended:
OS: Windows 7 64-bit / Windows 8
Processor: Intel Core2 Extreme Quad Core Processor - Q6800 - 2.93 GHz
Memory: 4 GB RAM
Hard Drive: 3 GB available space
Graphics: nVidia GeForce 8800 (768 MB GDDR3)
DirectX: Version 9.0
Network: Broadband Internet connection
---
© Copyright 2013 Serellan LLC – Project TAKEDOWN, © Copyright 2013 505 Games